Or so I hope!
I sold my home on March 25! I found out while at work and the first thing I did was start to cry when the words "I sold my home" actually left my mouth. Disbelief, mostly, I think. Relief, too. By the time the offer to purchase came in I was quite a ways down the road to giving up. Sure, it had only been just under two months since my place was listed, but the oil price-related economic downturn here has been a huge factor. The worry that my listing would become lost among all the others that were still languishing on the market was very strong.
But, I got lucky. :) A young couple came along and viewed my home, liked my home, wanted my home. I will gladly let them have it.
Where I Am Now
Part of me—a small part—does feel bad that this couple is moving in. If they are anything like me, they might not like living here any more than I have. But maybe they aren't like me. Maybe they'll like it just fine. I hope they do.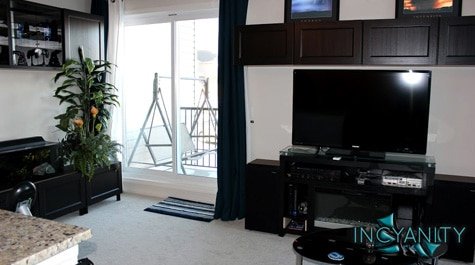 I can't make myself responsible for their happiness though. They were given all the information required by law about the building, including the board meeting minutes which mention the complaints I made over the last year. The buyers even engaged a professional to review the documents for them. Maybe they had no concerns about it. Maybe they assumed I'm a nitpicky OCD crank. Maybe they didn't care. There are a lot of possibilities.
Ultimately, I have to look out for me, because while there are people like my friends and family who do care about me and my wellbeing, the only person who will get anything done for me is me.
As with the mobile home I lived in for nine years, I'm trying to view this condo as a stepping stone rather than a mistake. I needed out of the situation I was in, so I purchased it, perhaps without properly thinking through my options at the time, and definitely without knowing better what to look for. It's been a learning experience for sure, albeit an incredibly stressful one. Life goes on.
The new owners take possession before the end of the month. When their offer came in, I started packing. I plan to be out in a week, which gives me an extra week to repair walls, clean up, and so on before the final walk-through.
It's not a bad looking place, is it? Actually, I've been disappointed that things didn't work out here for that reason. It goes to show that looks aren't everything.
But… Am I going to miss living here? No, I don't think so. Idiot property manager, boards that make poor decisions, obnoxious neighbors, crime and vandalism, low quality building construction, and so on.
Where I'm Not
During my hunt I considered a lot of listings. A lot. Mostly I wanted to avoid another wood structure if I could help it. Concrete buildings still transfer sound but the normal, every day stuff that I can hear plain as day in my current place—like light switches being flipped, dresser drawers opened and closed, closest doors sliding open and closed, people getting in and out of bed, and so on—would be drastically muffled.
This building is located within spitting distance of the train station I use to get to work. The listing I found in it was gorgeous. The unit is bigger than what I have now, recently renovated, and spot on in my price range. I viewed it, wanted it, but had to wait to offer on it until my own home had sold.
At first blush, this building appealed. Beyond the great location for getting to work, it's within walking distance to a variety of shops that I like, a couple of grocery stores, and even a shopping mall. I liked the rock landscaping and the mature trees around it too.
The main entrance to the building was pretty impressive. Lots of light, marble finishes, security cameras. I was reminded of a hotel lobby. It uses a keyfob system to access rather than having to juggle another key on a ring. So far, so good, I thought.
And it has a pool! And a gym! And a recycling program! The city is enacting a new bylaw soon that will force all high-density residential complexes to incorporate recycling programs which of course will mean condo fees will go up. But this building has a program already, so no extra costs for that would be needed.
The unit I wanted ended up being purchased by someone else just days before the offer on my home closed, so I lost it. But by then there was a second unit in this building for sale with an identical layout, just on a different floor, also in my price range.
It had not been renovated like the other one. Everything was original, although the carpet was supposedly "newer". This was probably realtor speak for "purchased in the 80s", because when I was a girl my family lived in a house that had that exact carpet!
I started to get a bit excited. If I lived in this building it would cut an hour off my round-trip commute. I wouldn't have to take the bus anymore. I would still be in the quadrant of the city I wanted to be in. I would still be able to get out of the city easily to travel to the mountains.
Perfect, I thought.
Well, maybe not exactly perfect. A kitchen and bathroom from 1977, original fixtures, and so on. The balcony door lock was busted and there was no screen door.
But I tried to console myself because I knew what the unit could look like if I put some effort into it. My realtor and I talked about it and she was able to negotiate an offer that included a $10,000 allowance for renovations as part of the sale. Great deal!
Or not. I reviewed the disclosure documents and my excitement quickly dried up. Drug busts, a resident assaulted, flooding, a fire, concerns about mold and asbestos, and multi-million dollar "mandatory" structural repairs which owners would have to pay for. Only some of that work had been done, while the rest had been deferred by the new board to an unknown date in the future. They had fired the construction company and the consultant.
Apparently the owners in that building were thrilled. No more special assessments! But the documents made it plain that the work needed to be done. Legal stuff. Insurance stuff. Serious stuff. I calculated it out… The remainder of the work (whenever they got around to doing it) would cost the specific unit I had offered on an additional $24,000 over and above the mortgage and normal fees. That would become my responsibility if assessed after my purchase date. Yikes!!
I withdrew my offer, and good thing too, because the mortgage wasn't approved anyway due to structural concerns in that building. Flee! Flee post-haste!
Where I'm Going
Even though it was a good decision to not buy in that building, I was still discouraged and even a bit panicked. I'd now sold my home and had nowhere to go, save for the basement in my parents' house until I could find something of my own.
I looked again through listings in the city. There was just nothing else in my price range that I was interested in. The ones I did find were in awkward locations, or were ancient buildings, or the size of postage stamps. No thanks.
I told myself, I deserve better. Buying a home is a huge financial commitment and I shouldn't settle for something I'm not completely happy with. I'd already spent nine years of my life in a moldy old mobile. I want something better.
Mom asked me if I had looked at listings outside of Calgary. I hadn't. Moving out of the city wasn't something I had really wanted to do because it would mean going back to using my car to commute, which would increase various expenses.
But I hadn't found anything in the city that I liked. Nothing with a "wow" factor. So I looked.
Surprise! I immediately found something I liked.
For this, I actually am excited. Unlike where I live now, this neighborhood is established. It's quiet, near walking trails, a pond, and some parkland.
The building is one of three in the complex. It's about seven years old—old enough to have its feet under it and all the kinks worked out, young enough to not have major problems yet. (Knock on wood.) Looks nice: rustic, with some stonework, a decent western feel.
The interior of the building is clean, and nicely decorated. Not sterile like the building I'm in now. They actually have artwork on the walls throughout the building. No vandalism there. Nice to have some chairs to sit on too, say, if waiting for a taxi or a friend to pop by for a pickup. Also uses a keyfob system to get in and out.
The unit I viewed is quite similar to the one I have now, though it is a bit smaller. But because of how it's laid out, it actually feels bigger. The kitchen is nicer, and has a proper breakfast bar, which is something I've wanted for a while since actual dining room tables just aren't my thing.
Stainless steel appliances! Lovely dark grey backsplash. And a flat-topped stove. I really like that. No more burners to lose food under on those occasions I actually decide to cook.
The kitchen overlooks the living area, which is nice and bright, and not a weird shape like the one I have now. Like in the photo above, I plan to get a nice sitting chair to compliment my sofa. I've wanted to get a nice chair for a while!
This layout even has a neat office nook, a cute little spot to put my laptop on those days when I don't want to lounge about on the sofa. I could do some of my crafts at this built-in desk too. I'll have to get a new office chair though. :)
The living room has nice long walls, perfect for decorating. Something else I've wanted to do for a while is get canvas prints of some of my better photos. I didn't bother with it in my current place because, well, lost the desire to decorate and all that. But here? I can see them hanging on these walls.
The bedroom is bigger than the one I have now. It has a walk-in closet with a built-in organizer. It comes with a ceiling fan too! The windows look out onto the balcony.
As bathrooms go, it's pretty standard, yet still roomier than what I have right now. Big enough to take a proper photo of, at any rate. I didn't try it, but I'm hoping the toilet flushes properly (unlike the one here, where the handle has to be held down an extra three seconds to ensure all the evidence is, uh, done away with).
The balcony is large and covered, and not attached to the balcony belonging to either neighbor. This unit faces southwest, so on a clear day the southern range of the Rocky Mountains can be seen beyond the building across the way. The balcony has a natural gas hookup for the BBQ too. No more propane tanks to haul around.
This is the view to the west, taken from the balcony. If I position my swing just right I should be able to look out on this. Where I am now? I have a northeast view of the sidewalk, the road, and the houses across the way. Southwest exposure means lots of sunlight, especially in winter. Lots of heat too, but I've always preferred warmth over cold.
The parking is pretty sweet too. The first stall is indoors, underground, heated, across from the main entrance, and right by a stairwell, so I have a wall on one side. The stall is wide and comes with a storage cage bigger than I have now. It's also right below a security camera. I've already met the stall neighbor, a nice older gentleman who likes to polish his Jeep. The second stall is outside, a surface location within easy walking distance to the door.
This building also has a recycling program in it already, and actively encourages residents to make use of it to save on costs. Thumbs up all around.
But as I've learned already, looks aren't everything. The devil will be in the details of the disclosure documents.
I read them. Twice. Then asked for a few more, and read those. They look clean. Well-organized. Issues look like they've been handled properly. Nothing set alarm bells off for me. Big sigh of relief? Oh, yes.
I snooped around the building too, hung out in the halls for a while. Sound transfer in my current building is horrendous in the halls… I can hear chatter in units as far away as a couple of corners. The day I visited the new building, both the visitor and owner surface lots were full of cars. The parkade was also full. So I paused outside doors to see what I could hear. And there was chatter, movement, TVs, small children laughing and so on. But as I moved away from those units? The sounds fell away. The building was quiet.
It won't be perfect. It's a wood frame building like the one I'm in now. I will still hear things. But it was built by a builder that I've actually heard of before, one that has quite a good reputation. The building I'm in now was built by a company nobody I've ever asked has heard of. Maybe simply being in a building that wasn't put together by god knows who will make enough of a difference that I won't be driven insane by the amount of sound transfer that will still happen. I'll have to get used to the commute again but it's nothing I haven't done before… Back then it was graveyard shifts in winter.
I offered on that unit the day I viewed it. I got it for a fantastic price! The owner has tenants in it right now and they are entitled to ninety days notice to vacate, so I won't be moving in until the end of June. Or…possibly sooner if the tenants find another place to rent before their deadline. Until then I'll bunk up with Mom and Dad and make plans for my new flat.
I'm looking forward to it! This is going to be my third home. And third time's a charm, right? Fingers crossed. :)