It's Winter, Therefore…Crafts!
Winter finally arrived in Calgary, just in time for Christmas! We had snow for the holiday and the chilly weather seems to be sticking around, more or less.
For whatever reason, when winter hits I tend to get into the mood to make stuff. The cold, howling wind, and blizzards just seem like the right time to curl up on the sofa and get crafty! This winter seems to be heading in that direction, thanks in no small part to my mother.
Color All the Things
The gift I am enjoying most from Christmas is the coloring books I received. Yep, I'm 34 and squeed when I opened a particularly heavy bit of wrapping to find it contained these:
An adult using coloring books might seem kind of odd to some people, but it's actually a pretty legit thing, especially as it promotes reduction of stress and anxiety, among other benefits.
s this a big deal? To me it is. 2015 was tremendously stressful for me and my family. I'm (unfortunately) no stranger to stress and maybe have a fairly high tolerance level for it. I indulged in massage, quiet music, bubble baths, DVD marathons, and my other usual coping mechanisms, and while these things helped, it didn't quite seem to be enough. There were more than a few times when I wasn't sure I could really deal or find where the light at the end of the tunnel was. My friends (and even my employer) helped a lot. Thanks guys. I made it to 2016 and things are looking up.
Anyway, the coloring books Mom got me are awesome. Wanting to be stress-free, calm, and happy are at the top of the list for the new year for sure. But also? It's fun.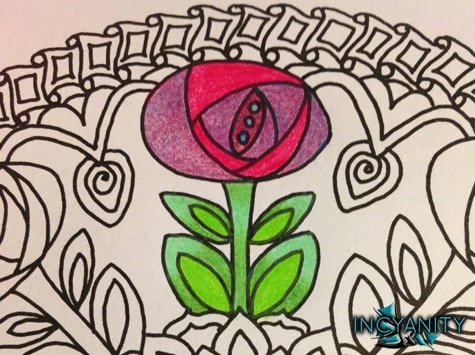 Many of the patterns in the books are styled as mandalas (which have all kinds of interesting and appealing zen about them), but there are also water and nature scenes, or just abstract stuff. The patterns are intricate and I find them engaging. The artist for this set of books is Angela Porter (have a look at her holiday mandala for a great example of her work) and when her other books are available I'll probably get them too.
Before this, I hadn't picked up any pencil crayons, markers, or gel pens since shortly after high school. Almost all of the art I did in the early 2000s was digital. Actually, I was a bit daunted at first by the idea of going back to a physical medium like pencils. Choose a color, but there's no undo! Ack! But once I got started I realized it doesn't really matter. This coloring is for me and I should just go with it. And I am. So far I'm coloring for about half an hour before bed. Is it helping? I have no idea. But I'm enjoying it and that's all I really need to care about.
The Great Owl Hunt
Mom was crafty for Christmas in other ways, too. Since many of my other hobbies and interests revolve around my computer and things they "just don't understand", my folks often resort to gift cards instead. Great! But what fun is there in receiving a handful of credit-card shaped gifts? Meh…
I opened a card to find the above poem written in it. This was great fun! Searching the house for the owls reminded me of a childhood birthday when my father had taken a jewelry box actually shaped like a treasure chest, put a gift and "gold" coins (chocolate wrapped in gold foil) inside it, and buried it in the garden outside. When I got out of bed on my birthday, I found a card with a riddle inside that prompted me to hunt for a hidden treasure map he had drawn, which, just like in the movies, then challenged me to figure out what "landmarks" in the backyard the drawings represented and how many steps I had to take to find the X. It must have been a mild winter that year, as I recall going outside on the quiet February morning still in my pajamas and using a spoon to dig up the box. No idea what the actual gift was now, but that isn't the point. The search was what made it so fun.
So was this. When I arrived at my parents' house on Christmas Eve and eventually sat down to dinner, I had spied a pink owl sitting in a pillar candle in a wall sconce in the dining room. "Why is there a pink owl in that candle?" Mom gave a non-committal reply. During our shopping excursions earlier in the month we had both noticed how many of the decorations on sale seemed to be bird and animal themed. I shrugged, thinking little more of it. Christmas morning? I happened to notice a green owl nestled among the pine boughs adorning the mantel. "Don't touch!" my mother cried as I reached out to pick it up, causing me to jerk my hand back as if the thing was made of napalm. "Come eat your pancakes!" Okie doke! No getting in trouble on Christmas morning for me, yikes!
Eventually came the card. It all made sense!
I enjoyed searching for the other two. :) The white one was a bugger to find, as Mom had hidden it in the Christmas tree. The tree is fake and frocked, so also mostly white. Clever camouflage!
She made them herself! They are each done with a different pattern of wrapping paper that she basted with something (I imagine) similar to paper mâché so they would hold their shape. Each has a slit in its head to hold the gift card. Very cute!
But that wasn't all for crafts.
It's Woolly Fun
When I was in my 20s, Mom taught me how to knit by getting me a beginner's "Knit a Pony" kit for Christmas. Knitting is her primary hobby: when I was small she would make sweaters and blankets, but over the years she has moved on to other things like dolls and toys which I always thought was kind of neat. After learning to knit the pony (which I still have), I wanted to learn to do other things. In 2009 I knitted a small puppy and also made a doll of a character from one of my stories. I even started a doll that was supposed to become my EVE Online character, but never finished it due to trouble I was having in adapting the doll pattern.
Plus…knitting hurts. Or rather, I found it made my hands cramp up a lot. Maybe I wasn't holding the needles correctly. Either way, I found I couldn't do it for very long before I got too uncomfortable. So, since 2009, I haven't actually knitted anything, just thought about it as winter came around. Hey, maybe I should finish that Sakaane doll. Eh…maybe later.
In my stocking this Christmas was a "Crochet a Jolly Santa" kit. I'm not sure why Mom thought to give it to me, but hey, something new right? But before I could tackle that kit I had to actually learn how to crochet. Thanks to Google, I found various tutorials including this super helpful video on how to easily make a magic circle to get me started.
Crocheting, in contrast to knitting (at least so far), seems to be going much better for me. I spent hours with some leftover wool of Mom's and didn't experience any cramps in my hands. Great start! So after making the heart, and being the kind of ambitious woman I am, I wanted something a bit more complex (but not that jolly Santa…that pattern is still all Greek to me).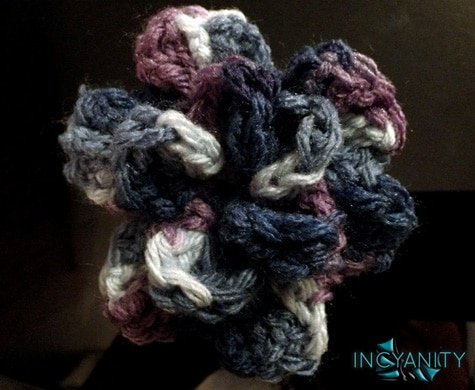 This flower is pretty cool, and for some reason reminds me of the weird undulating orifice in Star Trek: The Motion Picture. Anyway, I learned a lot of different stitches in making it so it was really a great way to start. It's fairly large, about the size of the palm of my hand. I have no idea what to do with it now, but hey, I made a flower! I could see doing this pattern again in white and yellow/orange, then making a third layer in green… A water lily!
What's next? I still don't seem quite ready to tackle that Santa, so Stargrace pointed me to a few sites that have cute patterns suitable for beginners. My next project?
Yep. The minion pig. I'm still working with leftover wool for this so he won't be the right color, but it's just for fun and practice. I learned another new stitch (so far) for this pattern too.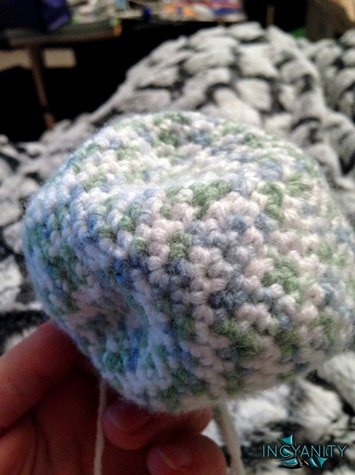 It's just a featureless ball at the moment (looks more like a partially-deflated motley-colored soccer ball or something) but there we go! Just need to stuff it, then make eyes, ears, and snout.
After this? Well, back to that Santa. Ultimately, if this crochet thing works out for me I'd like to find a good doll pattern and see if I can't get that Sakaane doll restarted and then finished. Wouldn't it be cool to offer commissions of EVE character plushies to people? I think it might be!
Edit January 7, 2016: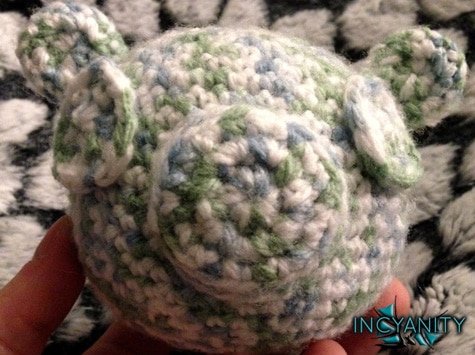 He's finished! Maybe not as cute as Nerdigurumi's version, but still cute nonetheless. Onward to something new!